The Institute of Printed Circuits (IPC) is an organization that sets global quality requirements for electronics manufacturing. It is accredited by the American National Standards Institute (ANSI) as a standards development organization. IPC standards are the most widely recognized acceptability codes in the electronics industry. It has over 300 active standards in its resource library.
Manufacturing quality control standards cannot be compromised. When you want to produce a high-quality product at a competitive price, you'll edge-out the competition if your brand offers consistent, dependable deliverables. IPC guidelines help ensure quality throughout the PCB manufacturing process.
There's an IPC standard for each phase of printed circuit board (PCB) production and delivery:
Design, output
Assembly, production
Acceptance
Purchasing
How IPC Standards Ensure PCB Manufacturing Quality
Original equipment manufacturers (OEMs) use electronics outsourcing as a means to cut costs. Adhering to IPC standards helps improve communication by ensuring everyone is using the same terminology and agrees on expectations. IPC standards bind international trade agreements and contractors to a consistent level of quality. For example, hazardous materials restrictions can vary from country to country. The Restriction of the use of Hazardous Substances (RoHS) is in place to support IPC principles.
Here is an overview of these standards: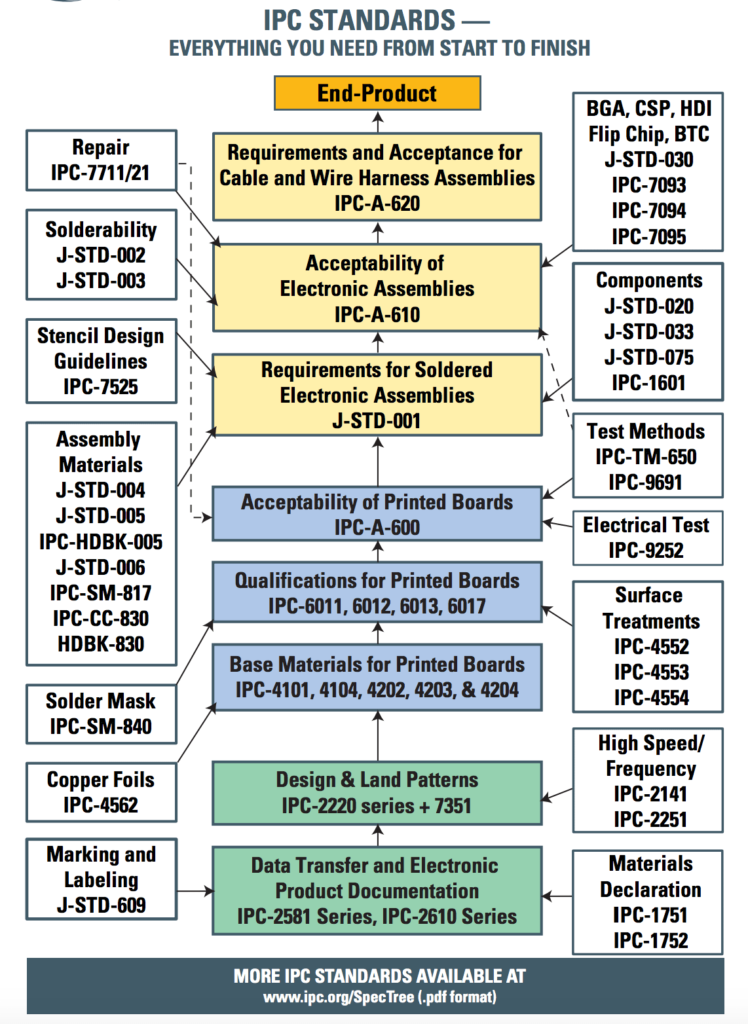 Four reasons IPC guidelines are critical to your company include:
1. More Cost-Effective
Adhering to IPC standards can help contract manufacturers reduce costs. Minimizing miscommunications and improving quality reduces the chance for delays and modifications. In addition, IPC standards allow companies to increase efficiency by minimizing resource use.
2. End-Product Quality Control is Guaranteed
As a contract manufacturer, you have to offer reliable, high quality products. In such a competitive environment, you can't settle for less. When your work follows IPC standards, you guarantee your PCB deliverables are:
Compliant with hazardous materials regulations
Durable and long-lasting
High performance
3. Realize Enhanced Communications
Quality standards models translate the same across all borders. This is especially important when you are communicating with international suppliers and employees.
4. You 'Measure Twice; Cut Once'
It saves time and money to do it right the first time. When you have IPC standards in place, you'll know that meeting those requirements cannot be compromised. You'll save money because you can lower the incidences of delays and do-overs.
PCB Prototyping Complexities Minimized with IPC Standards
The PCB development and manufacturing process has many phases. When every phase clearly outlines the patterns and specifications that must be met, you lower your fail factor. Your customers will recognize your products deliver high performance, superior quality, and dependable service.
By adhering to these internationally recognized standards a contract manufacturer shows commitment to quality which helps attract new customers. Following IPC guidelines is crucial for all organizations involved in the production of PCBs.
Do you have questions about IPC guidelines or your PCB production needs? Contact one of our specialists today!