•
HDI – High Density Interconnects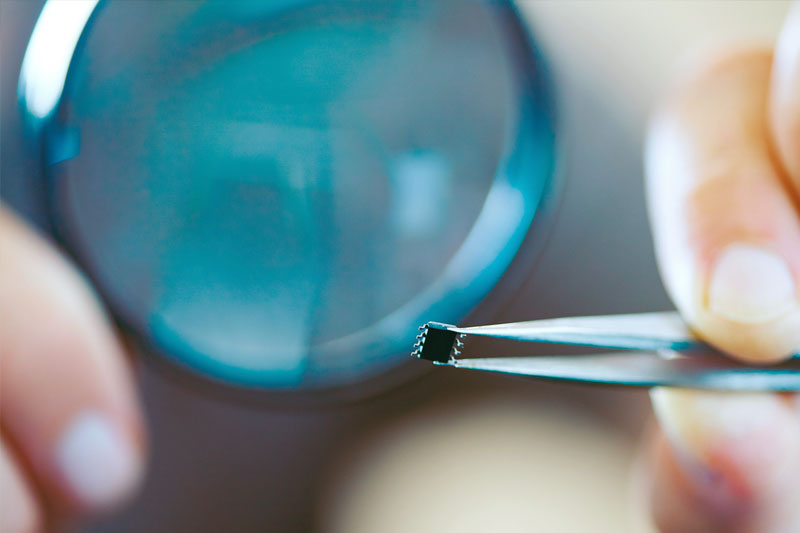 Make the most of smaller components.
Utilize HDIs (high density interconnection) for a higher wiring density per unit area. They're ideal for using smaller, future-driven components on a wide scale. They offer faster signal transmission and a significant reduction in signal loss and crossing delays – and are ideal for shrinking down the PCB size.
We use a plate-shut process which ensures more reliability for micro via processes as opposed to a process filled with non-conductive ink and then plating over. Our micro via formation technology uses lasers to drill micro vias, also called blind via-holes (BVHs). With the ability to place on or off the pads, these holes let you selectively create routing room in denser parts of the substrate.
The benefits of HDIs.
Increase electrical performance

: The smaller parts used on HDI boards have shorter internal wire lengths. This provides reduced rise times and lower power requirements when compared to their larger, alternative packages.

Reduce PCB size.

HDIs create a gateway to miniaturization of PCB design with 'via in pad' technology.

Improve reliability

by stepping up technology rather than compromising existing design rules.

Gain design choices

when it comes to BGA layout with the smallest pitch.

Increase thermal enhancement

.

Increase interconnection density

by reducing plated thru holes, pad size and conductor size.